This past week my opponent - eight term incumbent John Doolittle - brought out President George Bush for a $2000 per plate fundraiser.
This was the first time a sitting President visited this part of California in all of Doolittle's 16 years in office. At the time of the announcement of the visit, Doolittle actually gave this priceless quote to the Sacramento Bee, the largest newspaper in the District -
"Doolittle said the price of admission has not been set yet, 'but it will cost a lot -- as much as we can get.'"
I can't tell you how revealing this quote is.
[More below the fold]

John Doolittle is the only member of Congress who is involved in
both
the Jack Abramoff and Randy "Duke" Cunningham corruption and bribery scandals. After members rushed to return cash or donate money to charity in the wake of these scandals, Doolittle insisted he had
"no intention of returning any campaign contributions that were made in a lawful and ethical manner."
And this is the same member of the Republican Leadership (Doolittle serves as Republican Conference Secretary) who has refused to give back just $1000 in campaign contributions from former Rep. Mark Foley:
"'He just feels real strongly that money ethically given and ethically received he shouldn't give back,' said Richard Robinson, the congressman's chief aide and campaign spokesman."
John Doolittle likes money. And he made plenty of it this past week.
With the fundraiser grossing a reported $600,000, Doolittle's wife, Julie, stands to make $90,000. She makes a 15% commission on all fundraising by Doolittle's campaign and PAC.
I was honored to host a few national figures who came out to campaign with me this same week.
But there's a difference. What Doolittle does is fundraise. It's not campaigning. Campaigning is shaking hands, answering questions, having townhalls, meetings, and house parties.
On Monday, the day before the President's visit, 4-Star General and Former NATO Supreme Allied Commander Wesley Clark joined me for a rally at the Vietnam Veteran's Memorial in Sacramento (and a fundraising dinner after that). Picture below -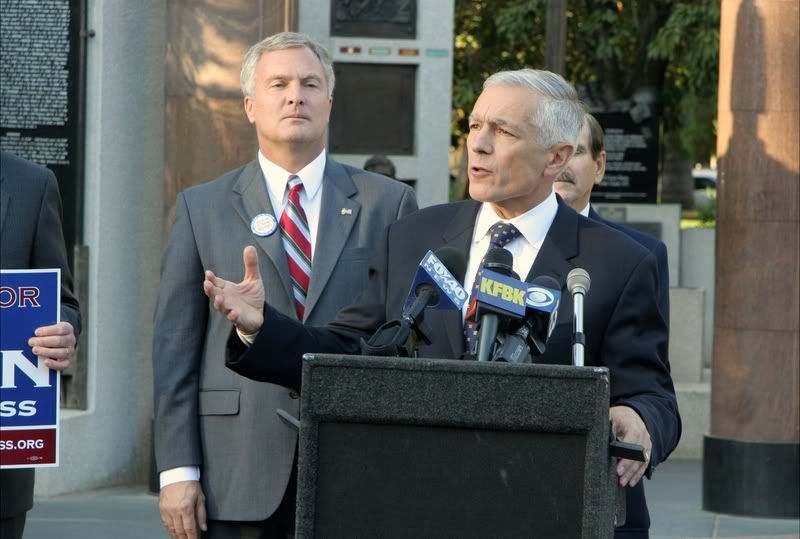 On Tuesday, we decided to match the Doolittle's $2000 per plate event with an old fashioned hot dogs and beans rally at a spot called the "Blue Goose Fruit Shed" in Loomis - actually a converted warehouse. We put the word out and hoped to match the 300 expected guests for the President's visit. Instead - 500 guests turned out, including Republicans (wearing "Republicans for Charlie Brown shirts), independents, veterans, and all other types. We ran out of food. The crowd was standing room only. Every event we think we have a big enough hall - and everytime we need a bigger place. It's a terrific problem to have.
We ended the week with a visit from a personal role model - former Senator and Head of the Veterans Administration Max Cleland. I have such respect for Max. We rushed from event to event, including a veteran's town hall and a BBQ with over 150 folks there. Thank you for everything you do, Max.
I'm sleeping when I can. I'm making staffers go for runs with me when I can get them moving early in the morning to keep our energy up. And every other moment I'm shaking hands and campaigning. And I'm so thankful to see it's paying off - with a poll placing me dead even with Doolittle, with great press in the the Sacramento Bee, the Auburn Jounal, The New York Times, and on NPR.
Thank you all for the support.
- Charlie.