Eric Massa is one of the 2006 Fighting Dems who fell just short (51-49) in his challenge to a nondescript Bushite Republican, Randy Kuhl in NY-29.
He's announced that he's in again, and last night gave a rousing talk to the New York state DFA conference dinner.
Massa also screened, and commented on, the DVD "Taking the Hill," about the experiences of four Fighting Dems in 2006 -- himself, Tammy Duckworth (IL-6, which was an open seat after Henry Hyde's retirement), Patrick Murphy (PA-8) and Rick Bolanos (TX-23, withdrew after winning the Democratic primary for personal financial reasons).
Murphy was the only winner of the four, and the DVD notes that only four of the 62 Fighting Dems won.
That has gotta change next year.
Massa is right on all the issues, and with the strong netroots support he deserves, he will win next year.
Details, including how you can help and a two-for-one deal, below.
(P.S., I am aware that LuLu also posted a similar, if less detailed, diary about Massa today, so I waited until the diary scrolled off the top 50.)
Massa raised about $1.7 million last time, and says he was the only Democratic challenger to outraise a Republican incumbent.
And he did not take corporate PAC money then, and will not now.
But it was not enough for the DNC or the DCCC to help Massa out, while the RCCC gave Kuhl about $1 million in the closing weeks for negative ads and mailers.
Massa said he was ahead in his internal polls by about 6 before the RCCC slime hit the district.
Kuhl's clearly endangered re-election campaign also attracted fund-raising visits by both Bush and Cheney. I hope he brings those spectaculary unpopular losers back next year -- the money raised will not be more electorally significant than the reminder of the Bush/Cheney stink on Kuhl.
On the DVD, and in his talk, Massa is full of piss and vinegar about the war, calling it the nation's worst strategic blunder, made by the worst president ever and managed by the worst secretary of defense ever.
Also on the DVD, Rahm Emanuel advises Massa to tone it down (and raise $200,000 a month). Massa said he will try to have more fun this time, but he is clearly angry about what the Bush regime has done to the military (active and veteran) that Massa dedicated most of his adult life to.
Max Cleland appears a lot in the DVD, supporting Massa at a Manhattan fund-raiser and at rallies with veterans in the district. And telling Massa to stick to his guns, in language not fit for broadcast, no matter what the wise guys in DC say.
Cleland is a hero, not just for veterans and Democrats, but for the country. He left two legs and an arm in Vietnam, and there are several scenes in the DVD about how he gets around, with difficulty, but with help from his friends like Massa and Murphy.
Regarding the Duckworth-Cegelis controversy, Massa said he's friends with Duckworth, as a fellow Fighting Dem who left both her legs in Iraq, but added that he felt that Roskam's attacks on her as someone who moved into the district at the behest of national and state Democratic leaders were instrumental in her 51-49 loss.
Massa said he has been active in helping local Democrats, including door-to-door work this winter for village candidates, many of whom won, setting historic precedents for Democrats in upstate villages.
Money is the mother's milk of politics, and while Massa supports Clean Money Clean Elections and will not take corporate PAC money, he still needs plenty of mother's milk to be competitive.
And to deal with a primary from a self-funded guy whose fortune is derived in large part, Massa says, from his un-American work outsourcing Bausch & Lomb jobs to China.
Hopefully, the rich guy will fade away as he did in 2006; Massa said he has the support of every county and town Democratic chairperson, and of the 170 or so unions in the district -- that is, most everyone who really matters in the district, though some Democrats outside the district (Louise Slaughter, shamefully, and the DCCC, predictably) apparently prefer rich guys to progressive veterans as candidates.
So Massa, again, needs our help. He says he needs to have $300,000 cash on hand by June 30 to convince the "national party" to make his candidacy a "top priority."
Massa told us he has about $100,000 now, expects to raise about $100,000 from union supporters, and needs $100,000 from people like us, which he described as 1,000 people giving $100.
He raised several hundred from the dinner attendees, but rather than write him a check, I had another idea.
It's early to do this, but Massa was super-inspiring tonight.
So here's the deal. I will give Massa $100 today, if that $100 is matched by the Kossack community.
You all like two-for-one deals, right? And this one is better than most you'll see here between now and November 2008.
The autographed DVD of "Taking the Hill" is available here, for $29.95.
Here's the even better deal, I will send my (unautographed) copy to the person who gives the largest amount in this matching fund-raiser. (In the case of a tie, the first person to commit to the largest amount gets the DVD.)
It's not a one-way street between Massa and the netroots -- he diaries/posts semi-regularly here and on MyDD and Talking Points Memo, and he attended YearlyKos last year and will again this year.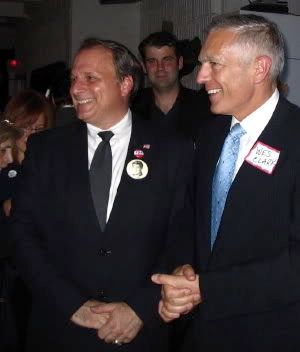 Eric Massa is the real deal -- a Fighting Dem first because he's a 24-year Navy veteran (serving under both Wesley Clark and Joe Sestak along the way), and a Fighting Dem second, and more importantly, because he will fight to end the Bush/Cheney/Kuhl war, institute single-payer national health insurance, and outlaw the bribery inherent in the current campaign finance system.
So, who will help this excellent Fighting Dem raise the money necessary to defeat a Bushite lock-stepper and elect a member of Congress we can all be proud of?
And maybe get a great video about how Democrats are taking back the national security issue from Republican liars who have been smearing Democrats as "weak" for 60-plus years.
Please send your credit-card love for this great candidate here.